DOES PRP TREATMENT FOR HAIR LOSS REVERSE BALDNESS WITHOUT SURGERY, What Exactly Is The PRP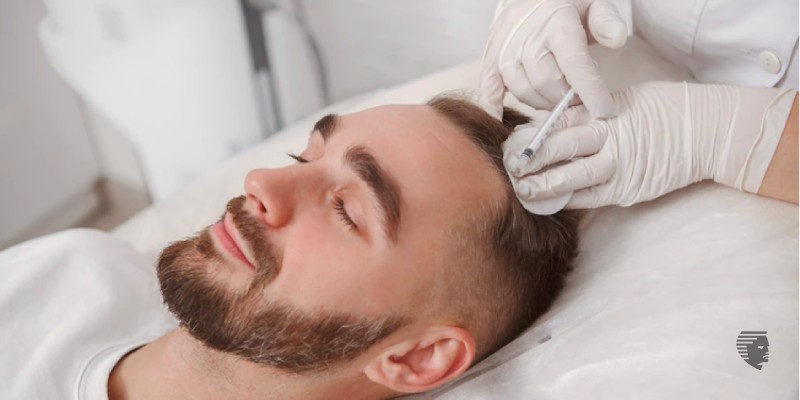 ADVANCED HAIR STUDIO
DOES PRP TREATMENT FOR HAIR LOSS REVERSE BALDNESS WITHOUT SURGERY
18 May 2022
Hair Experts @ AHS
4 min. read
Millions of people suffer from androgenetic alopecia, often known as male or female pattern baldness. If you're one of these people, you've had a similar experience.
Having one's hair fall out may harm their self-esteem and capacity to interact with others. According to one study, about 29% of women who suffer from hair loss report experiencing depressive symptoms.
According to a recent study, a new natural strategy may give more individuals hope for hair regeneration without surgery, medicines, or topical ointments. Hair loss may be reversed, and new hair growth can be stimulated using platelet-rich plasma (PRP) injections, a novel procedure that uses a cell type that helps mend wounds throughout the body to use your blood platelets. But always keep the caveat in mind - this solution may or may not render results for all types of hair loss stages. Detailed understanding hence best to be taken note of through a qualified hair loss expert.
What Exactly Is The PRP?
PRP treatment is a three-step medical technique in which a person's blood is taken, processed, and then injected into the patient's scalp to combat hair loss.
PRP for hair regeneration is an exciting new treatment option for those looking to return to their former selves in appearance and self-confidence. Doctors think that PRP injections encourage natural hair growth and assist in keeping it by accelerating the blood flow to the hair follicle and increasing the thickness of the hair shaft. With the help of additional medications or therapies for hair loss, this method may be employed.
How Does PRP Work?
Even though hair loss is often associated with ageing and genetic factors, adulthood may be a time of increasing hair loss. Losing your hair is known as balding because the hair follicles, which are tiny sacs that hold individual strands to the scalp, shrink, causing the hair to fall out.
Platelet-rich plasma (PRP) has become more popular when treating muscle and tendon injuries in athletes. It has been shown that activating platelets present in the blood of patients suffering from hair loss and employing platelets as growth factors may increase blood flow to the hair follicles and increase the thickness of their hair shafts, respectively.
We'll go through what to expect before you have PRP treatment for hair loss with you in advance. It is possible to increase the health and thickness of one's hair, as shown by several peer-reviewed studies in this field. Professionals will also discuss lifestyle alterations that may impact hair loss, such as quitting smoking and eating an Iron & vitamin D-rich diet, two minerals that have been shown in particular studies to promote hair growth.
Platelet-rich plasma (PRP) has been utilised to aid the healing of muscle and tendon injuries by physicians practising sports medicine. Injecting platelets from a patient's blood and activating growth factors have enhanced their hair follicles' blood supply.
Professionals will draw a tiny sample of blood from you and spin it in a centrifuge to isolate the platelets from the rest of your blood cells to diagnose your issue. After that, it will be removed and injected into the parts of your head experiencing baldness. The whole treatment is completed in less than 30 minutes. If the patient has any pain, they will be able to return to work the next day without any trouble.
Patients will need to return once a month for the first three months, then once every three to six months for the remainder of their lives to get another injection of medication.
There are no adverse side effects to worry about when you use your blood. There are certain levels and possibilities of concerns if the session is done by a novice or a not-so-experienced team of medical practitioners. These range within the range of haemorrhage, hematoma, infection, and nerve injury. Though seldom these complications do exist. Having PRP done is not recommended if you use anticoagulants, have an active scalp infection, have chronic liver illness, or have a low platelet count.
As with every breakthrough therapy, long-term research is now being conducted to understand better the potential of platelet-rich plasma for new and sustained hair regeneration, which is no exception (PRP). In recent years, many patients have begun to combine PRP injections with more standard hair loss treatments, such as medication.
A growing amount of scientific data shows that people suffering from hair loss may benefit from platelet-rich plasma (PRP) therapy. Patients were observed for up to six months after their PRP therapy in the majority of the studies.
Procedure
One typical strategy for PRP injections for hair loss includes the steps listed below:
Arm veins are punctured by a medical professional to obtain blood.
They use a centrifuge to separate the components of the blood sample.
In the centrifuge, blood components are separated.
A medical professional uses a syringe to collect platelets from the bloodstream.
A doctor injects platelets into the scalp in particular areas using a needle.
Many sessions will probably be necessary to finish the treatment in around an hour. After receiving PRP therapy, many patients can return to their daily routines with no limitations.
Several dietary changes and daily routine adjustments may be beneficial to encourage hair development or prevent hair loss.
Can PRP Treatment Reverse Hair Loss?
Platelet-rich plasma (PRP) is swiftly becoming a popular and successful option when treating hair loss. Physicians started employing PRP about a decade ago to expedite wound healing and increase cell proliferation at the location of the injury.
The success prompted more investigation, which ultimately led to researchers investigating the usefulness of platelet-rich plasma (PRP) in the treatment of hair loss. According to the Journal of Cutaneous and Aesthetic Surgery research, there was a "significant decrease in hair loss between the first and fourth injection" after the treatment.
"PRP therapy works as an elixir for hair growth because it has an action on almost all the essential components required for survival of hair follicles, according to a stem cell practitioners article published last year that studied PRP research and interviewed 117 people for their first-hand accounts.
The research evaluated by the team contained work that demonstrated regions where PRP treatment may help treat hair loss and encourage hair growth, among other things.
PRP hair treatments may help persons with thinning hair slow the pace at which their locks are falling out.
When thin hair is treated, it may regenerate as thicker hair from the same follicle.
When the general health of the scalp is restored, the outcomes of hair treatments are enhanced as well.
PRP treatments may stimulate dormant follicles that have been latent for some time.
The treatments can eliminate or considerably decrease the need for regular medications for hair loss.
How Long Will It Last?
Platelet-rich plasma (PRP) is not a treatment option for disorders that cause hair loss, such as alopecia. Because of this, a person would need a large number of PRP treatments over time to sustain their hair growth outcomes. Furthermore, medications often used to treat androgenetic alopecia, such as topical minoxidil (Regaine) and oral finasteride, have been shown to have significant side effects (Propecia).
Various variables influence how often a patient gets PRP injections, including the patient's overall health and outcomes of their initial therapy. Your doctor may recommend you have maintenance injections every 3–6 months after your hair loss has been brought under control.
The Average Cost of PRP Hair Loss Therapy in Delhi
Depending on the provider, a single PRP treatment in Delhi may cost anywhere from INR 8000 to INR 12000. For hair loss treatment, the PRP hair treatment cost depends on the following factors:
Prior training and expertise of a dermatologist or the track record of a clinic
The quality of the equipment used in the process
The number of sessions required
The treatment's location, as well as your general health
Safeguarding one's assets from harm
Conclusion
Researchers have demonstrated Platelet-rich plasma (PRP) to stimulate the production of new hair. There is a need for more studies to determine whether or not PRP is effective because of the limitations of these studies, including the small number of participants and the wide variation of techniques and protocols employed by different practitioners.
Additionally, to be successful, clinicians and researchers must identify which patients are most likely to react to PRP therapy and develop standardised treatment protocols.
A consultation with a hair doctor or a hair expert is recommended for those suffering from moderate to severe hair loss to determine if the PRP therapy is suitable for them.
Hair Transplantation by Turkey Hair Expert
---
Turkey Hair Expert provides high quality and safe hair transplant in Turkey at its contracted premier clinic, using the most advanced techniques and technologies. With a patient-centric and ethical approach, Turkey Hair Expert offers high-quality hair transplantation in Turkey with its experienced doctors and medical team.
For 3 years we have been chosen as the best hair transplant clinic in Istanbul (2016-2017-2018). Since our foundation we have dedicated all our knowledge and skills to hair transplantation, becoming true leaders in the sector.
As Turkey Hair Expert we are proud to offer competence and professionalism to patients from all over the world, who choose the experience of Dr.Emine Karabash, Dr.Mustafa Yilmaz and the highly qualified team of professionals.
Mustafa Yilmaz
---
My vision of hair transplantation is totally in line with this perspective: to be at the service of regained well-being through effective techniques that give natural results. The hair, in women of course, but in men, it is the force of life, it is the finery. Losing them is truly an injury, a trauma. It's terrible!

Also, I enjoy listening to my patients and never judging them. I am then able to give them the best advice and allow them to regain their self-confidence.

I naturally surrounded myself with a caring, expert and extremely rigorous team in its field to be sure to offer men and women who suffer from baldness solutions that work, without ever ignoring safety and reliability.

The used techniques depend on Dr. Mustafa Yilmaz decision after doing the medical diagnosis, Choi Pen / DHI - Sapphire - Micro FUE are used normally in our operations.
Emine Karabash
---
I started dermatology almost 15 years ago now and thanks to my encounters with other dermatologists, I quickly turned to medical aesthetics.

More and more women and men want to feel good about their hair, and when this is the case, one gains confidence in oneself, in everyday life, in social life and in work.

I have also always remained "classic", in this movement that is now called the "Soft touch", namely to privilege discretion, elegance, and of course, naturalness. Not ostentatious! I prefer to repair what is damaged, rather than change or modify.

The used techniques depend on Dr Emine's decision after doing the medical diagnosis, Choi Pen / DHI - Sapphire - Micro FUE are used normally in our operations.
Ayshe Yalchin
---
She is the one who sees you in consultation and who makes the diagnosis. On D-Day, Ayse. starts the procedure with local anesthesia in your donor area. She is present throughout your intervention, ensuring its perfect completion, with the support of her team of experts.
At first I had some nerves surrounding the procedure, however, these were soon gone when reassured by the professional staff. So much so I came back for a second hair transplant. The procedure was painless and was completed on the same day, allowing for visible results with minimal scarring.
- James Elliott -
I came to Turkey Hair Expert clinic for hair transplant. From the start to finish everything was very professional. I received great service. The experience was outstanding.
- Allen Jones -
I recently underwent a hair transplant with Turkey Hair Expert and the care and attention that I received were outstanding. They cover everything for you and booked everything but the flights. They are all extremely friendly and make you feel welcome from start to finish. Definitely, recommend.
- Wayne Bennett -
I travelled to Turkey for a hair transplant with Turkey Hair Expert and was blown away by the facilities and the caring staff that were there upon my arrival. The result I am beginning to see are amazing and have fully restored my confidence. Definitely my top recommendation.
- Angar Safi -
I found out about the services provided by Turkey Hair Expert through a friend who had previously had the procedure done with them. I found the service to be highly professional with high-quality results, I would recommend this service to anyone.
- Oliver Lewis -
Turkey Hair Expert has helped to make the hair transplant more affordable to those who need them and the staff are amazing. They are on hand every step of the way and will answer any questions that you may have. – Definitely, recommend this service to all.
- Darren Thomas -
I came to Turkey to have a hair transplant with Turkey Hair Expert. I had a large number of graphs done and the time flew by. The process was seamless with an extremely high level of care. I highly recommend this service to all. Thanks, Longevita.
- Leon Hazlewood -
The overall experience with Turkey Hair Expert has exceeded my expectations. The surgery was painless and undergone in a professional manor and the results are outstanding. Extremely happy!
- David Miller -
I could not be happier with the results of my FUE hair transplant. The experience was outstanding and the accommodation, as well as the overall location, was beautiful. Definitely, use this service for a hair transplant!
- Kirk Trow -
I am absolutely satisfied with the procedure and the outcome visible so far. The communication and consultation with Turkey Hair Expert was very friendly and clear from the beginning to the end.
- Kevin Johnson-
Great experience. Staff is friendly and professional. Everything was taken care of from the moment we arrived at the airport till the day we left. Highly recommend!
- Joshua Hunter-
Very good experience with Turkey Hair Expert. Extremely well organised, professional and helpful. Couldn't recommend them more if you're thinking about hair and beard transplant.
- Nick Roth-
Hair Transplantation & Methods
---
FUE Titanium Technique
---
FUE Titanium Technique
---
Lifetime warranty letter
---
Free Transfers
---
Complimentary 3 nights / 4 days, hotel accommodation incl. breakfast
---
Translator
---
Blood Tests
---
Washing and Control
---
Medications box after the operation
---
Plasma injection
---
Checking the grafts using a Microscope device
---
Local Anesthesia for painless operation process
---
Laser Therapy
---
Ice grafts feeding device
---
Treatment and vitamin box
Sapphire FUE Technique
---
Sapphire FUE Technique
---
Lifetime warranty letter
---
Free Transfers
---
Complimentary 3 nights / 4 days, hotel accommodation incl. breakfast
---
Translator
---
Blood Tests
---
Washing and Control
---
Medications box after the operation
---
Plasma injection
---
Checking the grafts using a Microscope device
---
Local Anesthesia for painless operation process
---
Laser Therapy
---
Ice grafts feeding device
---
Treatment and vitamin box
DHI Technique
---
DHI Technique
---
Lifetime warranty letter
---
Free Transfers
---
Complimentary 3 nights / 4 days, hotel accommodation incl. breakfast
---
Translator
---
Blood Tests
---
Washing and Control
---
Medications box after the operation
---
Plasma injection
---
Checking the grafts using a Microscope device
---
Local Anesthesia for painless operation process
---
Laser Therapy
---
Ice grafts feeding device
---
Treatment and vitamin box
Get a free online consultation
Get a free consultation and get your instant treatment plan less than 10 minutes for your hair transplant surgery with Turkey Hair Expert
---
Book your treatment
Once you get your treatment plan, book your treatment with All inclusive Treatment Packages of Turkey Hair Expert.
---
Welcome to Turkey!
After sending the flight information to your personal agent, we will arrange everything to make your hair transplant journey in Turkey an incredible experience that will change your life.
Do you need more information on hair transplant ?
Let us take care of you We only treat one client at a time, very privately.